Does the pressure of perfection weigh you down through the Christmas Season, only to slap you in the face again come the New Year because you just can't seem to measure up, at least not in your estimation? Why not make 2016 the year you break free from the insanity? Ditch perfectionism and find peaceful-ism!
Do any of these resonate with you?
1. If people know my struggle they will think less of me.
Image is everything. If they see my weakness, I'm hooped.
The idea that we must project the right image in order to succeed leaves us feeling inadequate, particularly when it's discovered we are less than the perfect image we attempt to portray. People relate with those who have struggled and are willing to be vulnerable in sharing their experiences. The sense of being able to identify with another person builds that 'know, like, trust ' sense of connection.
2. If I say 'no' I'll be shunned.
I have spent most of my adult life trying to balance my yeses and nos. We live in a society that promotes the super hero, "I can perform miracles" mentality. We strive to do it all because we want to feel appreciated, and believe if we say no that we are an underachiever. This typically sets us up not only for a sense of failure but also for burnout.
What I've learned is that when I say yes and follow through, I gain respect. When I say no because I know I can't fully commit, I also earn respect.
Need some help learning how to say no without feeling guilty? This article from Real Simple may have some useful strategies for you to try.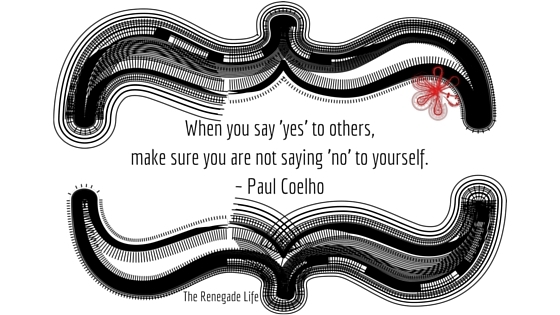 3. If I'm perfect maybe I won't be hated.
If I do nothing wrong, if I say the right thing at the right time, if I'm nice….it will gain the love of those around me. When a person presents themselves this way they can come across as unapproachable, leaving us to assume we will be judged and they will think less of us.
4. If I am all things to all people, I'm a good person. I'm the strong one, the one others can totally rely on.

Trying to be all things to all people is quite simply the definition of insanity. It cannot be done and when we try, it is inevitable to disappoint others at some point. The fallout from it becomes a good ol' inner beating that makes us feel far less than…..perfect.
5. I'm responsible for others' happiness.
When we take on the responsibility of ensuring happiness all around, it resembles martyrdom, don't you think? We feel better about ourselves for being that person – the one who gives everything up for the sake of another, thinking that it's right and good.
What that does, however, is place a burden on us that isn't ours to carry. It is also delusional to think that others' happiness depends on our ability to provide it. People-pleasers be warned: we are each responsible for our own happiness and when another is not willing to accept that, it is their issue and not ours.
6. I can't mess up or I'm doomed to failure.
I have one kid who used to cry if they didn't get 100% on their tests – in Grade 1! I have another who up until recently figured that if it couldn't be done perfectly the first time, there is just no point in doing it at all.
Fear, shame or blame can all immobilize us from our most creative inner self. Some of the greatest inventors 'messed up' repeatedly – or alternatively they considered it a learning process. How sweet it would be if we could truly look at our mistakes as learning opportunities and stop the inner dialogue that defines us as losers. So. Not. True.
The greatest mistake we make is living in constant fear that we will make one. — John C. Maxwell
7. Perfection makes me indispensable.
Even the most gifted are not indispensable. Needs change, policies change. In an ever-evolving world, no amount of perfectionism will secure our roles or careers. Doing tasks perfectly does not equate to innovation or creativity. Heart and spirit, willingness to adapt, coming up with brilliant solutions or possibilities? Those are qualities that far surpass an impossible attempt at perfection.
Don't place your mistakes on your head, their weight may crush you. Instead, place them under your feet and use them as a platform to view your horizons. — Unknown
While it is common for those of us who strive for perfection to spiral downward when perfectionism isn't achieved, it is not a peaceful or harmonious way to live out the one life we've been given to experience and enjoy. How do we combat these tendencies in a manner that doesn't undermine our desire to do well?
Pursue excellence, not perfection.
Ask for help when we're in over our heads. Isolation does not breed wisdom.
Ask for feedback. Ask the questions: Are my expectations unrealistic? Am I being too picky? Where can I lighten up?
Recognize perfection as an oxymoron. There is no perfect person, nor will there ever be. Excellent ones? Millions of them…
Try vulnerability in a safe scenario and see where it takes you. When people can identify with you, they immediately connect with you!
Live in the moment. Enjoy it. Savour it. Recognize how precious it is, and that at the end of the day, being perfect isn't all it's cracked up to be.